SOOOoooo...guess what I did this weekend??? You'll never guess! I FINISHED my dresser turned TV stand! WAAAHOOOOO!!!!!
I do have to say...while others may sing spray paint praises...I curse it with every breath. It ran (even when I sprayed the "required" distance and method recommended on the can)...it didn't cover...it was basically a pain in my butt. With the sound of a can dropping into my trash can, I went out and purchased a lovely and EASY can of paint from my local ACE hardware store...:) Happily whistled my way thru the rest of my paint job and smiled at the results.
I sanded the CRAP out of this piece...let me tell you, I'm SOOOOOO happy I have a nice black and decker palm sander. It made the job super duper easy.
Here's what I started out with...nothing too fancy, just an old dresser purchased at a local thrift store (for too much probably but the size and bones of it were perfect for what I had in mind).
And THIS is my lovely...in all her second life glory! I'm SOOOO happy how it turned out. My wonderful man cut a few pieces to fit into the space that was the top drawer. And I purchased glass knobs for the remaining drawers. I originally was going to paint it dark red with a chocolate brown top and then antique the red, but then I changed my mind and thought I had enough red in the house with my two couches. I need to take pics in the morning with the daylight because there's too much glare with the flash, but I couldn't wait to post about it...*grin*. And please don't pay attention to the Xbox or cords...I'm working on a hide for those...:)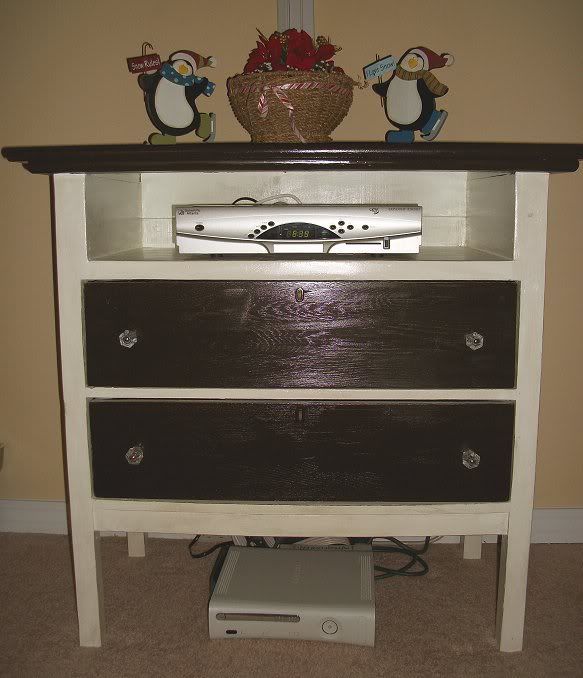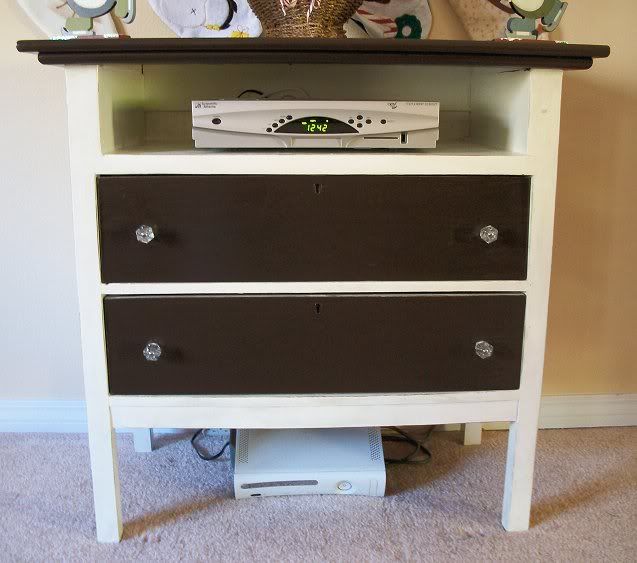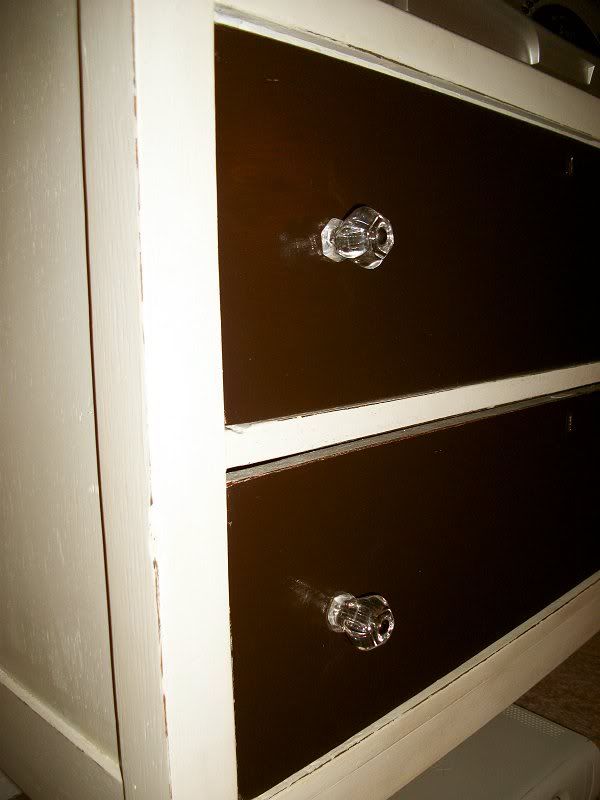 This was my first furniture redo...probably going to be a while before I do more...lol...it's too hard to get enough free time to do as much as I like to do on a project. Got this done because the man was working over time and I had a day to myself without running around the town with him and the kiddos.
So anywhooo...hope ya'll like it...I'm linking to these parties so be sure to go visit!