FINALLY...I have finished my decorating. Some people never finish, but I always have a stopping point. Now...this does NOT mean I won't see a cool idea on one of my bloggy friend's blogs, that I will HAVE to create immediately if not sooner...;) It just means I have emptied my boxes of "stuff" from the garage...heehee.
So I thought I'd share a few of my favorite things with all of you. (Cuz I know you can't live without knowing my favs...yeah, right...well, work with me here and PRETEND...;) )
Here's my new media shelf of course...I just finished it so I could decorate...not really, but sounds good. You'll see I have hung the kiddo's stockings beneath the TV (I don't have a mantle in this house...I'm so sad).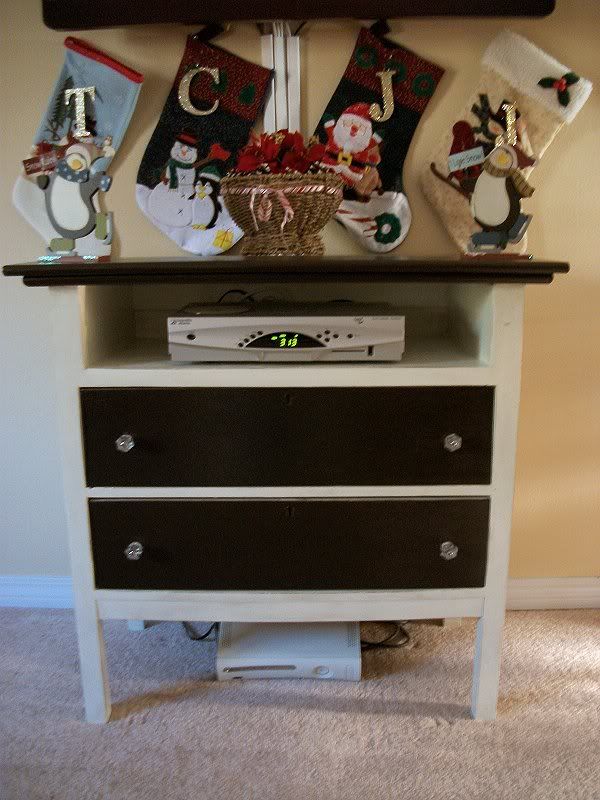 These three little raggety pandas I created about 4 years ago. They were SUPER duper easy to make and are too cute when grouped together.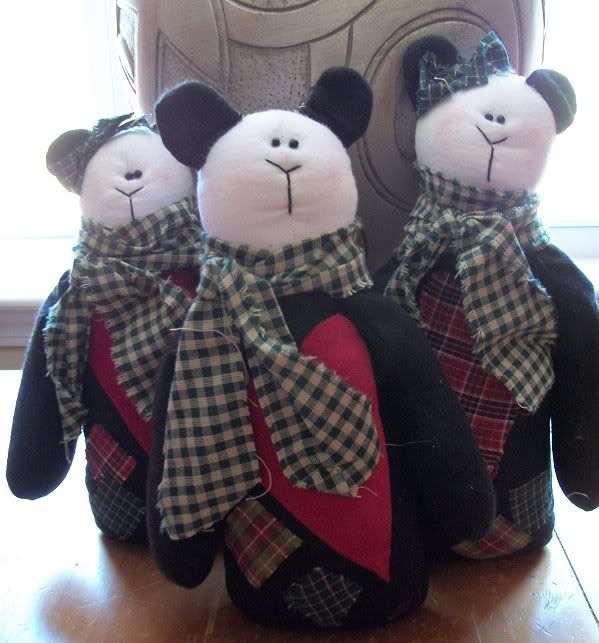 This is my front entry table. The round boxes I painted several years ago and they double as ornament boxes when they are put away. I've "wrapped" them with a big candy cane striped ribbon. Next to them is something I created on the fly the other night...lol. If you remember, I had a nice big hurricane vase on that black base...well yeah...um...kids, and glass hurricane vases just don't mix. All the snowman heads were stuffed in that vase until my son broke it. Snowman heads EVERYWHERE! It was so disturbing! So I decided they should be stuffed in a nice safe basket with some green stuff...:) Now they look like they are "planted"...heehee. Still disturbing, but at least they are getting used.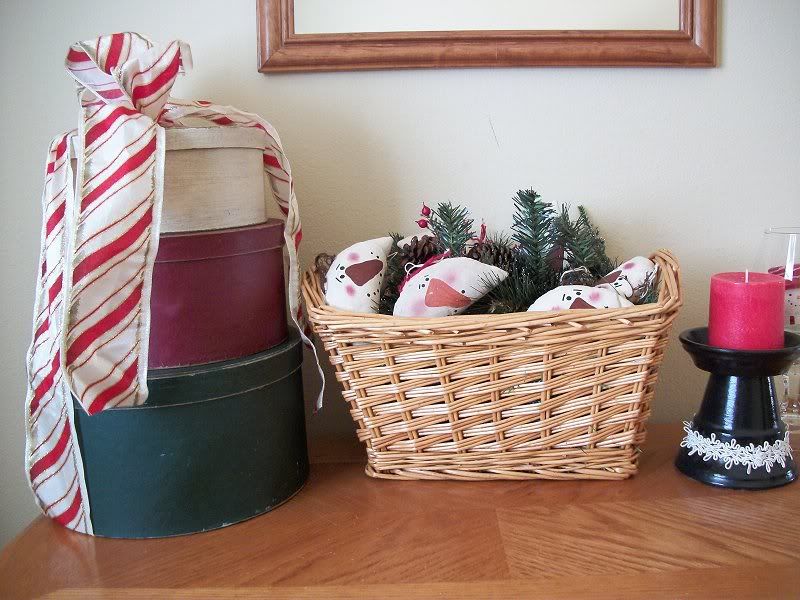 Here are a few of my FAV OR ITE ornaments. They just make me smile when I see them.
My friend in Texas made me these "Santa's Drawers"...I may do a small tutorial on how to make them if anyone is interested. Wicked easy and too funny on the tree. I can't tell you how many giggles these have brought thru the years...:)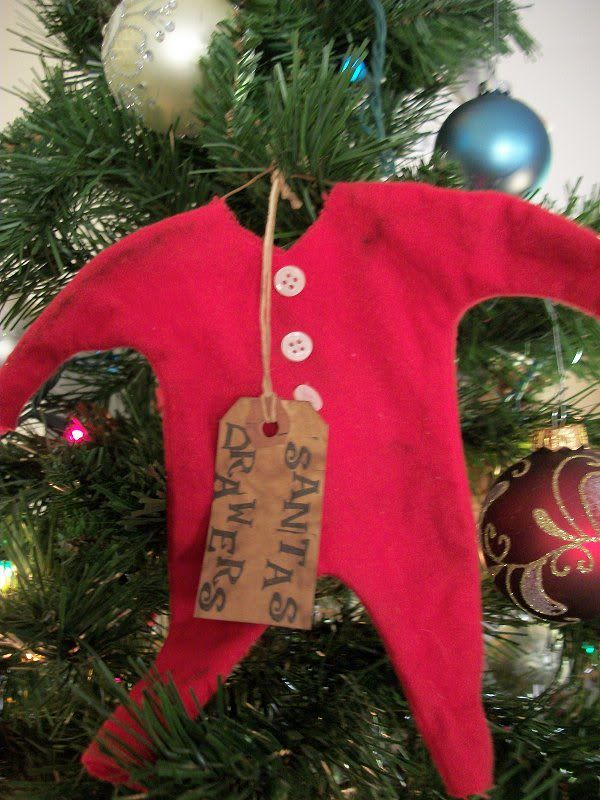 And of course, my Miracle on 34th Street ornament. My Mom bought me this a long time ago. We used to watch the movie every Christmas.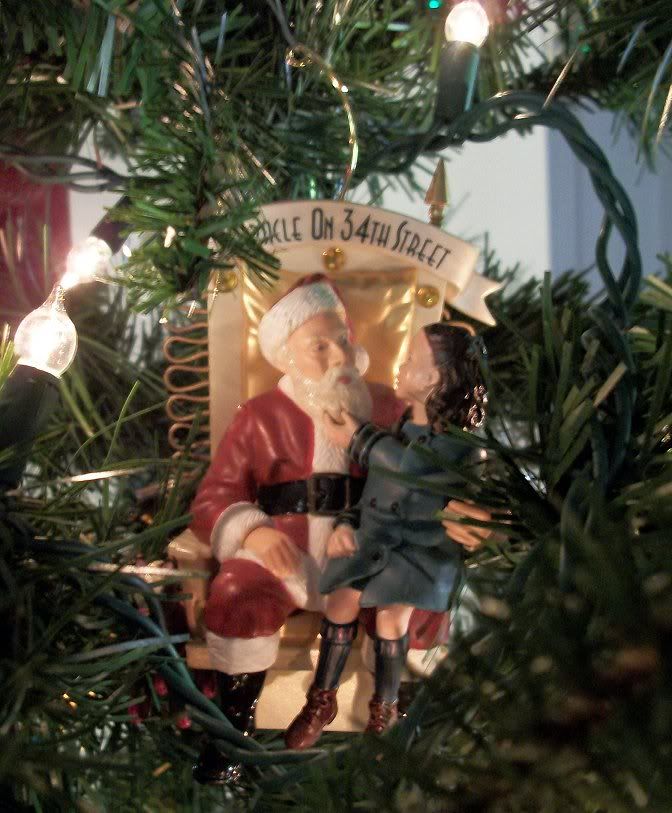 I also love the fabric iron on vintage image ornaments I made last year. So easy to do and they look so cool on the tree.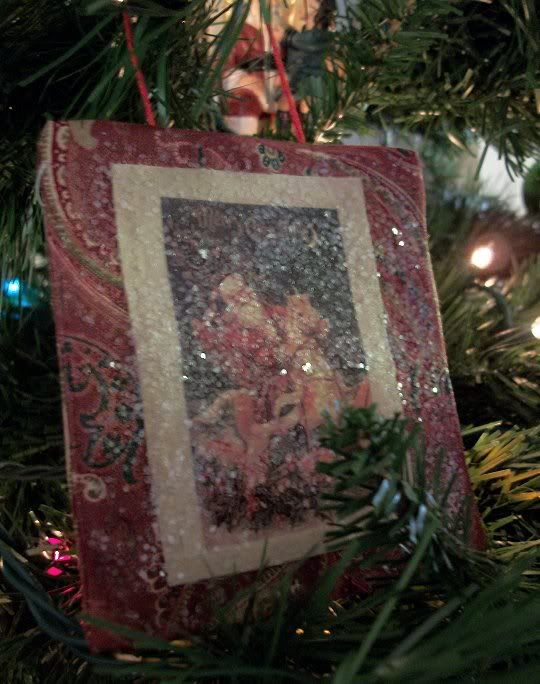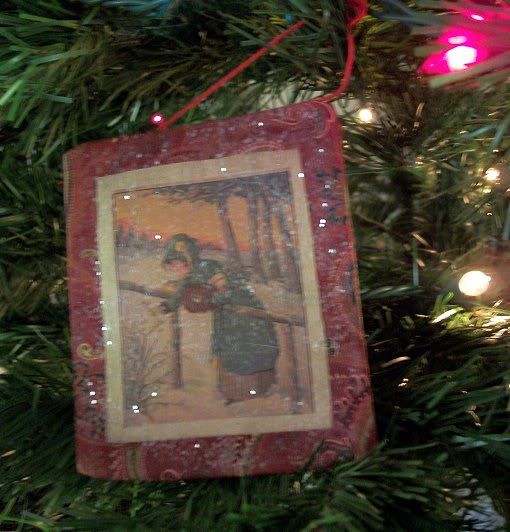 And lastly...is the TREE! Not as "sparkly" as it usually is, but with a puppy in the house, we had to forgo a lot of the ornaments on the bottom as well as the tinsel...but I still love it!
Hope you've enjoyed the tour of my holiday decor...:) If I add anything new, you'll be the first to know!