I have seen all the cool stuff people have been making apothocary jars and candle holders and what not out of, so I figurd I'd give it a whirl myself! I mean, come on...I am KINDA crafty...*grin*
So I dug around in my craft crap supply stash and found a few items that I played around with until I got something that resembled a stand. Looked pretty good to me, so I glued it together. Basically, it's a terra cotta pot and two terra cotta pot trays. These things are so cool because you can do so many neat things with them. I'll have to dig out some of the patterns I have for them to show you sometime.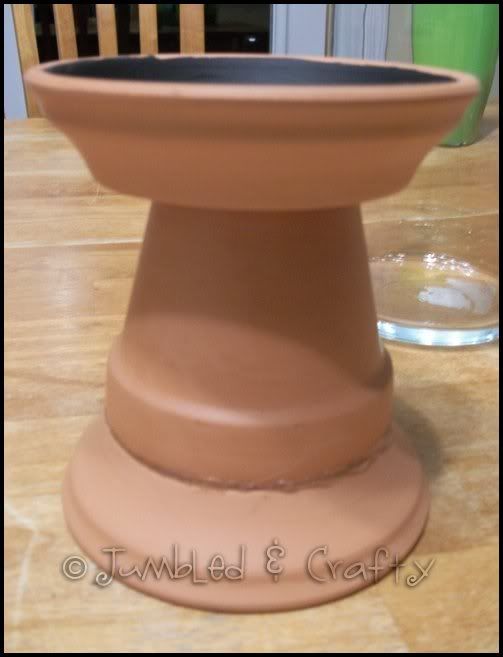 Once I had it glued together...(it took a TON of glue sticks)...and I have come to the conclusion I need to invest in a nice BIG glue gun. This little glue gun stuff...nope...not gonna cut it.
Any-whoo...after I glued it all together, I started painting it. After that, a couple of coats of varnish (modge podge actually...L O V E...LOVE the stuff) and it was almost done!
Uh-huh...I know...I'm seeing what you see...That little glue line around the base right? Well...I got a solution for THAT too!
Voila!...seeeee...nothing like a little bit of trim to hide your glue lines...*grin*
I got this HUGE hurricane jar at the Dollar Tree...gotta love spending just a buck! WEEeeeeee!! Does anyone besides me spend more than $20 when you go into the Dollar Tree? Hmmm...come on now, be honest!
Here's the finished product. I don't think I'm going to keep what I have in it. It was late and I just put something in for looks so I could get a photo. I'm working on some fun fabric and glass glittered Christmas balls right now. So when they are done, I will probably put those in there, along with some lights or something. Not sure. But this would work for every season! And if I get tired of THIS jar...I can put a candle or another of the zillion jars I have stashed hiding in my craft stuff...:)
Close up...whatcha think? I'm LOVEing it!
Grab yourself some terra cotta pots and see what you can create! I think I spent a total of $0 on this project! I had everything already on hand...:) Gotta love spending no money to get something to decorate your space!
Be sure to visit my linkie parties...:) Got them listed below.